PoE 3.22 Ancestors League Final Verdict: A blazing success or A flicker?
Trial of the Ancestors is nearing its end, and PoE 3.23 Affliction Expansion is coming. So it's time to give the final verdict on PoE 3.22. Was it as epic as the fires of Mount Doom or as mild as a Bone Shatter Juggernaut build? We dissecting everything from the polarizing auto-battler mechanic to the character-defining tattoos. Let's find out!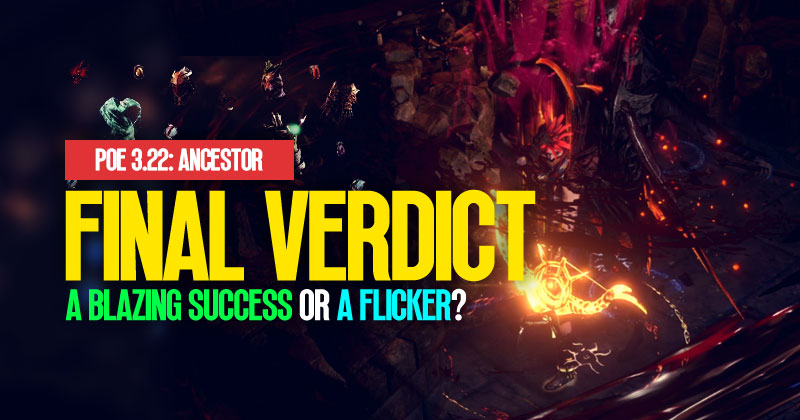 ↖ Auto-Battling Tournaments
Dropping an auto-battler into POE? Bold move, GGG! Some found it as thrilling as navigating the Atlas for the first time, while others thought it as tedious as leveling their tenth alt.
Yes, the Trial of the Ancestors (TOA) came loaded with cheese strategies that GGG had to nerf mid-league. It's a mechanic that divided the community – you either mastered and milked it, or you gritted your teeth and bore it for the challenges. As a bone-shatter Juggernaut player, let's tell you, it wasn't a walk in the park.
↖ Tattoos
The tattoos from TOA? Absolute game-changers! Players could snag extra resistances, access hard-to-reach keystones, and even add corpse explosions. It's the kind of creative freedom in build crafting that makes POE stand out. Sadly, like many league-specific features, these might not make it to the core game. Fingers crossed, though!
↖ Unique Items
Let's talk gear! Some new unique items really shook things up. We had "Rakiata's Dance," the Elemental inverter, and "Utula's Hunger," the life-stacking juggernaut. Not to mention "Replica Dragonfang's Flight" – a little amulet that gave a big boost to all skills. These items offered fresh takes on familiar builds, adding spice to the POE recipe.
↖ Forbidden Sanctum Return
Sanctum comeback? A round of applause, please! It was more rewarding than ever, spitting out Divine orbs and Awakener's Sextants like there's no tomorrow. Sanctum's unique playstyle added depth to the endgame, though we are betting GGG's going to dial it back a bit in the next update.
↖ New Atlas Keystones
The new Atlas keystones were a breath of fresh air. They brought new ways to map, keeping the endgame fresh and exciting. "Destructive Play" for boss drops, "Extreme Archaeology" for explosive expeditions, and "The Seventh Gate" for modding freedom – these were just a few gems in a treasure trove of options.
↖ Support Gems
Okay, let's talk support gems. Not all were winners, but "Returning Projectiles Support" found its niche. Sadly, most others were about as popular as a damp squib. POE players love their damage, so unless these gems offer some serious DPS boosts, they might stay in the shadow.
Guardian and Chieftain Ascendancy Classes
The Guardian revamp? A surprise hit, especially in Ruthless mode. Then there's the Chieftain – an ascendency that grew from underdog to top dog. It proved its worth both for budget builds and high-end boss killers. A round of applause for GGG's balancing act!
↖ Final Verdict
So, was Ancestor League a hit? It had its ups and downs. The auto-battler was divisive, tattoos were a triumph, and unique items added flavor. The Sanctum's return was a welcome move, and the new Atlas keystones kept mapping interesting. The support gems? Well, they can't all be winners. The Guardian and Chieftain updates were spot on.
In the grand scheme of things, we are giving the Ancestor League a hearty 8.5 out of 10. It might not reach the heights of some previous leagues, but it definitely held its own. But hey, that's just one exile's opinion. What's yours? Did Ancestor League hit the mark for you? Are you excited for the upcoming Affliction expansion? Drop your thoughts below!
Most Popular Posts
Popular Category Lists