League of Legends received one of the most ambitious and outlandish updates with patch 12.10. The new version of the game brought a general change to all the champions in the game, which led to some of them being completely unbalanced, as was already expected after the significant changes. However, Riot Games has made good on its promise to introduce new changes just two days after launch. Patch 12.10b is coming soon to the game, which brings changes to 11 champions – so players can rest easy until the release of the 12.11 update.
What's coming to LoL with the 12.10b patch?
11 champions received tweaks, but we must remember that this is a particular version. Riot Games hasn't focused on characters generally in good or bad condition in the meta. That's why, for example, we don't see a tweak to Ryze, despite him having a win rate of just 41%. The developers just wanted to fix the issues that came up with the update to continue working on the game's overall balance in the coming weeks.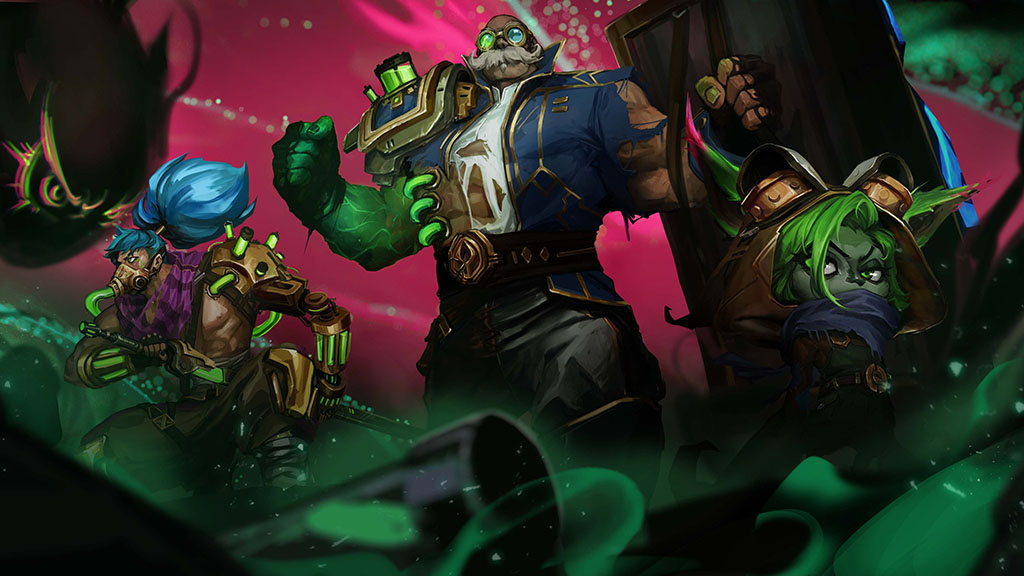 Buffs
In total, six champions received power boosts.
Diana
W – Livid Cascade
Shield base value increased from 25-85 to 40-100
E – Lunar Zenith
Damage increased from 40-120 (+40% AP) to 50-130 (+45% AP)
Draven
Passive – League of Draven
Gold bonus per kill increased from 25 (+2 per Adoration stack) to 40 (2.5 per Adoration stack)
Q – Revolution of the Ax
Bonus damage increased from 40-60 (+70-110% bonus AD) to 45-65 (+75-115% bonus AD)
Kled
W – Violent Tendencies
Cooldown reduced from 14-8 to 12-6 seconds
R – AAAAAAAAR!
Cooldown reduced from 160/140/120 to 140/125/110 seconds.
Renekton
Q – Slaughter the Defenseless
Cooldown reduced from 8 to 7 seconds
Base heal against champions increased from 10-26 to 12-36
Base heal against champions (empowered) increased from 30-78 to 36-108
Vladimir
Q – Transfusion
Healing increased from 20-40 (+30% AP) to 25-40 (+35% AP)
Empowered healing scaling increased from 3.5% per 100 AP to 4% per 100 AP
Yuumi
E – Frantic!
Healing increased from 65-165 (+25% AP) to 70-190 (+35% AP)
Mana cost reduced from 40-60 (+15% max mana) to 40-60 (+12% max mana)
Nerfs
In total, five champions received power reductions.
Anivia
Q – Icy Flash
Cooldown increased from 11-7 to 12-8 seconds
E – Freezing
Base damage reduced from 50-170 to 50-150
Taliyah
Passive – Glide on Stones
Bonus movement speed reduced from 10-55 to 10-40%
Duration after moving away from a wall increased from 2.5 to 3 seconds
Q – Intertwined Volley
Slow (marked terrain) reduced from 30-50% for 2 seconds to 20-40% for 1.5 seconds.
E – Shredded Earth
Slow reduced from 20-28 to 20%
Stun duration changed from 0.6-1 to 0.75 seconds
Kayle
Basic stats
Health boost reduced from 99 to 92
Base magic resistance reduced from 26 to 22
E – Starfire Blade
Bonus damage per hit on active reduced from 8-12% (+2% per 100 AP) to 7-11% (+1.5% per 100 AP) of missing enemy Health.
Vayne
Basic stats
Health reduced from 585 to 550
W – Silver Darts
Actual damage bonus reduced from 50-110 (+4-14% of enemy's max Health) to 50-110 (+4-12% of enemy's max Health)
Senna
Basic stats
Health reduced from 590 to 560
Passive – Acquittal
Physical damage bonus reduced from 1-16% (max level 11) to 1-10% (max level 10) of the target's current Health.
According to those responsible for the company, we should not expect any further changes over the current patch cycle. The following tweaks will be made around the release of 12.11 and will hit the PBE in the next few days. Of course, some of the imbalances this update caused in LoL will still need to be addressed, but Riot Games is committed to thinking much more broadly and strengthening champions that were already bad before the last patch.