Diablo 4 Endgame New Content and Rewards
Diablo 4 is an exciting new game that promises to bring tons of end-game content and rewards to its players. With the upcoming release of the game, players are eager to learn more about what they can expect from the end game. From world tiers to Hell Tied Events, dungeons, and the Codex of Power, there is a lot of new content that can keep players busy for hours.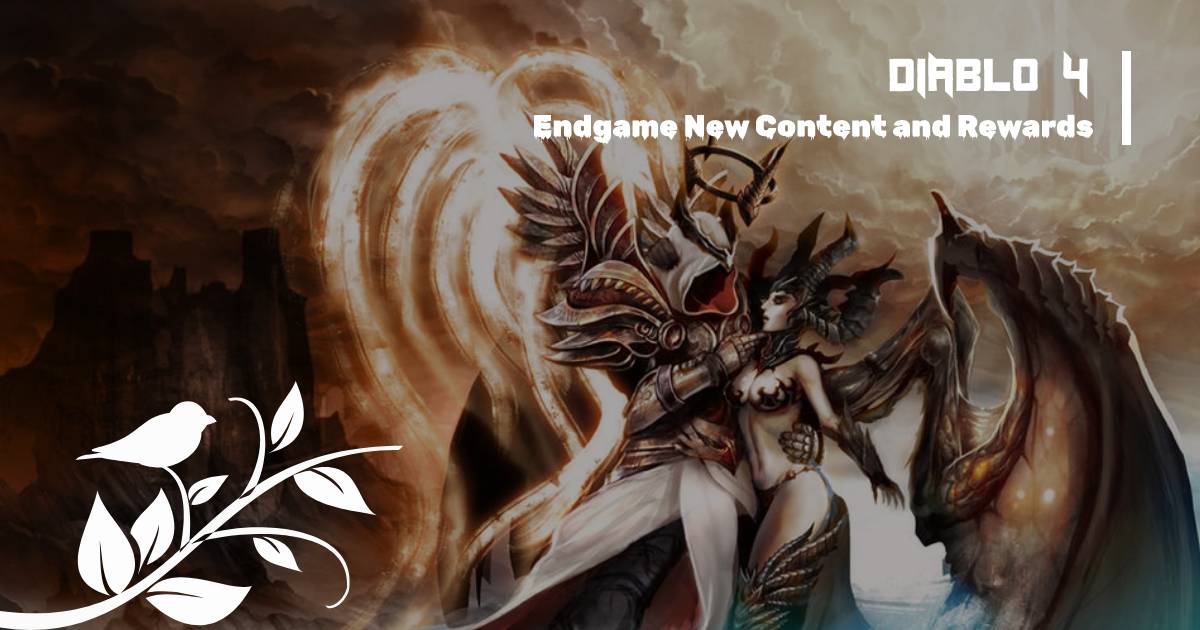 The World Tiers
The World Tiers are a new way for players to increase the difficulty and rewards of their play. By increasing the World Tier, players can expect to see an increase in XP, the rarity of drops, and other rewards. They also make doing open-world content more rewarding and challenging, as the enemies become more difficult.
The Hell Tied Events
The Hell Tied Events are large, region-wide events that require players to be at least at World Tier 3 in Nightmare difficulty. These events will see an increase in the strength of monsters and creatures, and they have the chance to drop a new currency called Cinders. These Cinders can then be used to open Hell-Tied chests that have powerful rewards exclusive to certain item slots.
Dungeons
Diablo 4 will also have more than a hundred dungeons at the game's launch. These dungeons will have their own entrances and unique creatures, and they will also have the ability to be turned into Nightmare dungeons with Nightmare Sigils. These Sigils can be obtained by crafting them or through a bounty system. The Nightmare dungeons will also have a variety of affixes and amplifications that can make them even more challenging.
Codex of Power
Codex of Power is a manual that contains every legendary item in the game, and how to obtain them. By completing the dungeons attached to them, players will be able to permanently unlock these powers.
Legendary Power system
One of the most notable endgame activities that Diablo 4 will bring is the Legendary Power system. This system allows players to apply Diablo 4 gold to their armor and weapons, providing them with a powerful boost. Additionally, players can obtain a great deal of loot by completing daily quests and collecting Whispers of the Dead. By completing these tasks, players can earn gold, XP, and Grim Favors, which can be exchanged at the Tree of Whispers for a hefty amount of loot. This system acts as a replacement for the bounty system found in previous games and is similar to the World Quests found in World of Warcraft.
Fields of Hatred
Another exciting endgame activity that Diablo 4 will have is the Fields of Hatred which is a PvP zone. Players who enter this zone will be alerted that they are entering a PvP area, and they can either choose to stay and fight or leave. Inside the zone, players will find NPCs, loot, and rewards, as well as Seeds of Hatred. These Seeds of Hatred can then be taken to an Altar of Extraction and converted into Red Dust, though players should be wary as other players may try to kill them and take their spoils. Red Dust can then be used to purchase cosmetics, mounts, and more.
Other Content
In addition to the various endgame activities, Diablo 4 will also have a deep Paragon Board, seasonal content, and more. The beta for the game is set to take place from March 17th to March 19th for those who have pre-ordered the game and from March 24th to March 26th for the open beta.
Final Thought
Diablo 4 looks to bring a lot of end-game content for players to explore and take part in. With World Tiers, Hell Tied Events, dungeons, and the Codex of Power, there is plenty of content for players to explore and enjoy.
Most Popular Posts
Popular Category Lists