Farming Poe Currency with 8-Mods Corrupted Cemetery Maps Strategy
Path of Exile is a popular online action role-playing game that requires players to acquire and use Poe currency to improve their character's abilities and equipment. One way to earn currency is through farming maps, and in this guide, we'll cover a specific strategy that involves running Path of Exile corrupted Cemetery maps with eight mods. The goal of this strategy is to farm Brother's Stash and Brother's Gift, two valuable items that can sell for a lot of currency.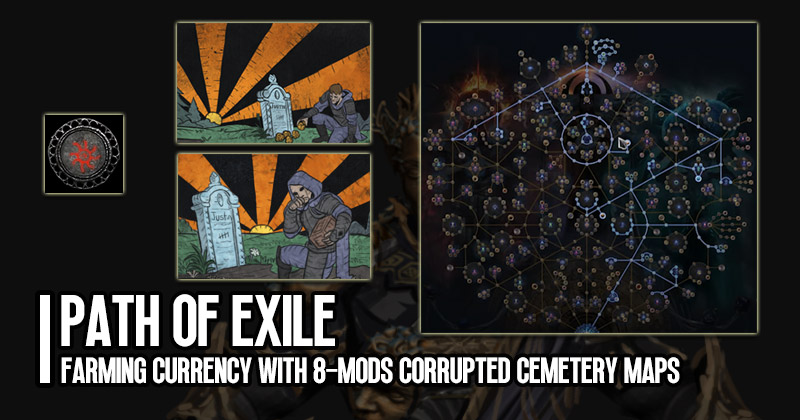 Before we dive into the details of this strategy, it's important to note that it requires a very strong build. The maps are challenging, and players will need to have a lot of damage and mobility to survive. With that said, let's get started.
↖ Map Setup
For this strategy, we recommend running Abyss sextants, Beyond sextants, and Breach sextants. We also recommend using 25% increased magic pack size sextants. The map size doesn't matter too much, but we recommend using a size I map.
As for scarabs, we suggest using Rusty Breach Scarabs since Breaches have good density and are generally profitable. We don't recommend using Gilded Abyss Scarabs since they don't seem worth the investment.
↖ Atlas Tree
For the Atlas tree, we recommend investing in Abyss nodes since we're running Abyss sextants. We also suggest investing in Harvest nodes since they can be profitable. As for Breach nodes, we recommend investing in them slightly, but not too heavily. Finally, we suggest investing in the "Final Map Boss has 16% chance to drop an additional Divination or Vaal Orb" node, which can increase the number of Brother's Stash and Brother's Gift drops.
We also recommend experimenting with the Wandering Path and Abyssal Depth chance nodes. The Abyssal Depth chance node can increase the number of monsters in Abysses, which can be profitable. As for the Wandering Path node, it can increase the density of Breaches in the map.
↖ Map Strategy
Once you've set up your map, it's time to start farming. We suggest spawning one Beyond production so that you can eventually spawn the map boss. The map boss drops a lot of currency, and they also drop a lot of uniques, which can be valuable if you use them to craft.
When running the map, be careful with the mods. Some mods, like "Map's Modifiers have no Effect," can make the map more difficult. Other mods, like "Monsters have 70% increased Attack and Cast Speed," can be extremely dangerous. We suggest skipping these mods if possible.
↖ Map Loot
After running 100 corrupted Cemetery maps with eight mods, you can expect to earn a lot of currency and valuable items. In our tests, we got extremely lucky and dropped nine Brother's Gift and three Brother's Stash. We also dropped 10 raw Exalts and eight Divine Orbs.
In addition to the valuable drops, we also dropped a lot of uniques. Some of these uniques, like the Lightning Coil and the Soul Mantle, were valuable because of their crafted mods. We also dropped a lot of jewels and other random uniques, which can add up over time.
↖ Conclusion
Farming corrupted Cemetery maps with eight mods can be a profitable strategy in Path of Exile. However, it requires a strong build and careful attention to the mods on the map. If you're up for the challenge, give it a try and see how much currency you can earn.
Most Popular Posts
Popular Category Lists