How to Crafting Poe Totem Explode Maraketh's Six-link Bow?
Welcome to my guide on how to put Total Explode on Maraketh's six-link bow in Path of Exile. This crafting technique will save you roughly two divines assuming you get lucky with the Crucible. In this article, we'll cover the seven steps to achieve this crafting goal.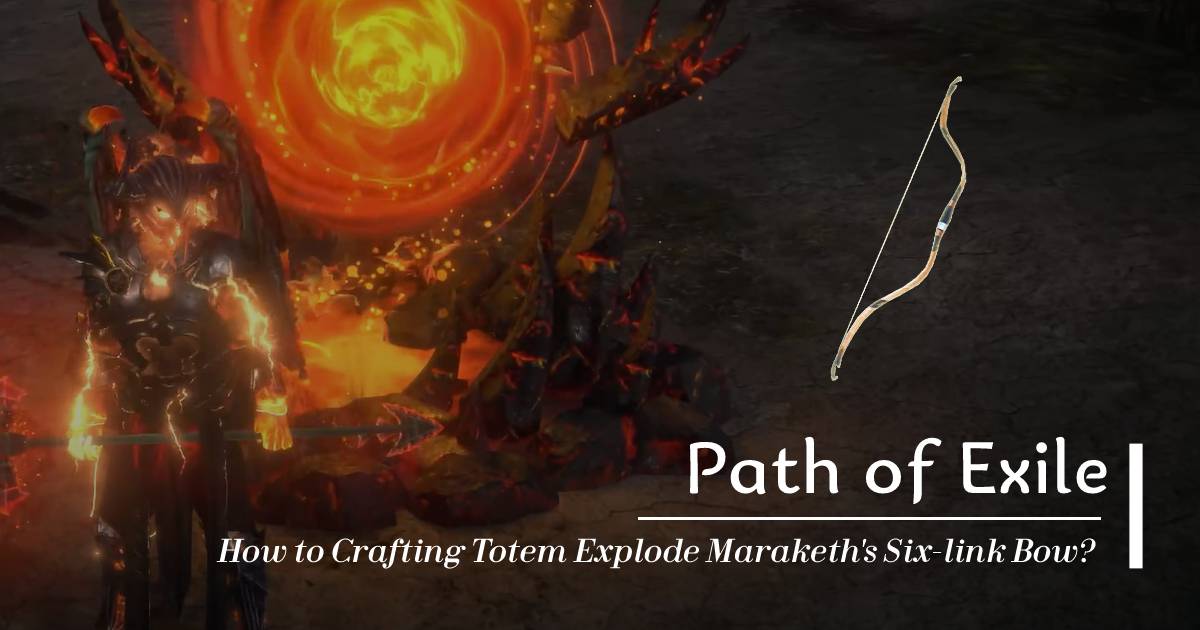 ↖ Step 1: Buy a Base
The first step is to buy an Eye Level 78 plus six-link Maraketh bow that is unsplit, uncorrupted, unfractured, and uninfluenced. This should cost you about 100ks to a divine, but I wouldn't pay more than two divines.
↖ Step 2: Buy a 600 Totem Explode Base
The next step is to buy a 600 exploding bow base. It's important to note that you want to read the passes on the tree and make sure there's nothing that will hurt your resale potential or general use. Things to avoid are reduced attack speed for those blink arrow users, any sort of negative res, increased reservation costs, exposure on yourself on hit, reduce charge duration, and generally anything that hurts the build.
↖ Step 3: Level the 600 Totem Explode Base
Level the 600 totems explode base.
↖ Step 4: Level the Main Marikath Base and Then Scour the Passive
Level your main Marikath base to put a passive tree on the bow or remove any existing passes. To do this, go inside a map, find the Crucible, and then use a scour orb on the pass. If you wish to unallocated, you need to do this until the bow has no passes allocated and looks like this.
↖ Step 5: Use a Primeval Remnant to Put the 600 on the Marikath Base
Use a primeval remnant to put the 600 on the Marikath base. Something very important about these remnants is that there are mods that can break your item. Please be careful and read the mods. One of them I know of will corrupt the item and add an implicit to it once it's combined.
↖ Step 6: Split the Base
Buy a Phenomo Plate, and Arachnid, and split the bow. Doing this will cut down on the cost of this craft significantly, as well as help towards your main bow craft. After splitting, you can sell these bases while they're split into two to three divines.
↖ Step 7: Sell or Craft the Bell
You should now have two Eye level 78 plus six-link Maraketh bows with totem explode. The total cost, assuming you hit it first try, is as follows: one divine for the six-link Marikath bow, 100 chaos for the totem explode baseball, 10 chaos for the remnant, and 80 chaos for the split beast. This brings our total cost to 410 chaos or 1.8 divines for two bows. Assuming you sell both of your bases for two divine each, that brings us to 2.2 divine profit. Now, in terms of being unlucky, as long as you don't miss five times, you are still in the black.
Conclusion:
Congratulations! You have successfully crafted a Total Explode on Maraketh's six-link bow in Path of Exile. This technique will save you divines, assuming you get lucky with the Crucible. Keep in mind that this is just one crafting technique, and there are many others to explore.
Most Popular Posts
Popular Category Lists