How to Crafting Path of Exile Poison Spark Weapon?
If you're interested in crafting a poison spark weapon or any other caster weapon, there are a few things to keep in mind. In this article, we will be discussing how to craft a poison spark weapon, but the same method can be applied to other items as well. The process can be expensive and time-consuming, but the end result can be extremely satisfying.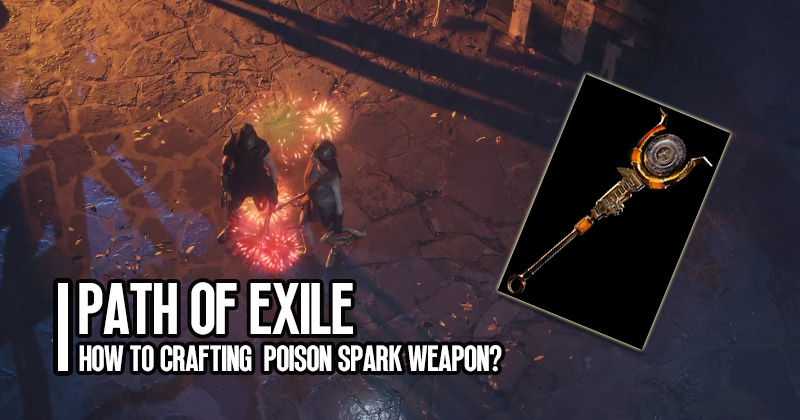 ↖ Choose Weapons
First and foremost, you want to choose a base. For a poison spark weapon, an oscillating scepter is an excellent choice. It has low attribute requirements and you can usually get an item level 86 for just a few chaos after the first couple of days of a league. However, if you want to get fancy, a fractured base is also a good idea. For example, a wand that was a fractured cast. the multi-weapon, or a scepter that was a fractured level of all lightning spell skill gems. Keep in mind that using fractured weapons like this can be more expensive and not necessarily worth the extra cost.
↖ Crafting
Once you have your base, it's time to start crafting. You want a few things on your weapon, such as the level of all skill gems or the level of lightning skill gems. This will depend on whether you're above or below level 30, but in most cases, you want lightning damage to spells as another good prefix. Round it out with either chaos damage or lightning damage, as you're converting from lightning to chaos, so either one works for your suffixes.
↖ Suffixes
You also have quite a bit of flexibility when it comes to other suffixes. Cast speed is great since it means you cast faster, putting more dots on the target. Chaos ulty or dot multi increase your damage done, and something like projectile speed feels really good. Keep in mind that even if it doesn't show up on your tooltip, it's definitely a nice-to-have for bass. You've also got quite a bit of flexibility. If you wanted a chance to roll that project, speed, go for Tornado one, which adds lightning damage to spells and attacks. If you want generic le damage, go with something like a void scepter for 40 increased elemental damage, and if you want elemental overload, something that's key to the build, you can gain it either through a crucible tree or through the high space oscillating scepter.
↖ Rolling essences
The deafening essence of torment is what you want to add flat lightning to spells, which you can see on your current weapon. You want to roll that until you hit either level of all spell skill gems or level of all lightning spell skill gems. From there, if you happen to hit a good suffix and you're able to annul down, then cool Multimoda and you're good.
If you want to get a little bit fancy, you can do prefixes that can't be changed plus ashling. The veiled affix will either be a prefix or a suffix. You unveil and go from there. The reason that you want to craft prefixes that can't be changed is that Ashling removes a modifier and adds a veiled modifier. If prefixes can't be changed but there's an open mod slot, it could add a prefix or a suffix. It could add a suffix, but it can only remove the metacraft. It will never remove your existing prefixes.
↖ Fractured Suffix
The easiest and most reliable method is to work off of a fractured suffix and then spam the essence of torment to hit the level of all spell skill gems or the level of all skill gems. This method is the most expensive upfront, but it is the most reliable. The next most reliable option is to use the ashling method, which involves hitting the ashling suffix for arcane surge cast speed hybrid and then multi-modding. This method takes several attempts and can cost around 10 divines.
In summary, crafting a poison spark weapon or any other caster weapon can be a long and expensive process, but the end result can be extremely satisfying. Choosing the right base and affixes is key, and rolling essences is a great way to add flat lightning to spells
Most Popular Posts
Popular Category Lists