GTA 5 Weekly Update : Double Money, Discounts, and More on May 26th
Welcome back to our weekly GTA 5 update on May 26th! Tomorrow brings a new set of bonuses and opportunities for all the dedicated players out there. Let's dive into what's coming up so you can prepare and make the most of it!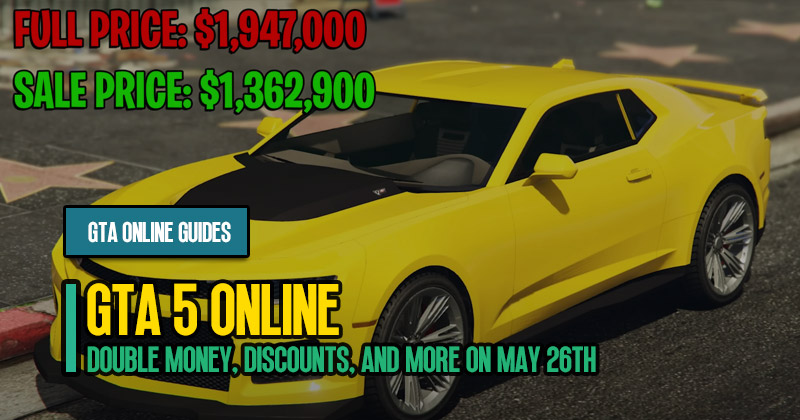 ↖ Stash House Bonus
To kick things off, we have a special bonus this week. If you raid a stash house on three different days starting tomorrow (Thursday), you'll receive a generous $100,000 reward. It's a quick and easy task, so don't miss out on this opportunity to boost your funds.
↖ Main Bonuses
Last week's Union Depository heist was quite a thrill, but this week's bonuses might not match up to that excitement. Starting tomorrow, you'll earn double GTA 5 money and RP on all free mode events and challenges. This means any activities you engage in while in a public lobby will provide you with extra rewards. So gather your crew and dive into the free mode mayhem to earn big!
↖ Power Play Game Modes
Additionally, power play game modes will also grant you double GTA money and RP. These intense modes offer a unique twist to the usual gameplay, so make sure to check them out for some thrilling action and lucrative rewards.
↖ Acid Lab Production Speed
For those involved in the illicit side of Los Santos, you'll be pleased to know that acid lab production speed is increased by 1.5 times this week. This boost will help you stock up your illegal operations faster and maximize your profits. Moreover, all acid lab supplies are available at a 30% discount, saving you valuable GTA dollars.
↖ Vehicle Discounts
Let's talk about some vehicle discounts this week. Three exciting vehicles are on sale at a tempting 30% off:
Coil Cyclone Supercar: Normally priced just under $1.9 million, you can snag this beauty for $1.3 million starting tomorrow.
Vigero ZX Muscle Car: Typically priced at $1.9 million, this muscular beast will be available for $1.3 million during the sale.
Grotti Stinger Sports Classic: Usually priced at $8.75 million, you can add this elegant and sleek ride to your collection for $6.12 million.
↖ Free Vehicle Opportunities
If you're feeling lucky, head to the casino and spin the Lucky Wheel for a chance to win the Vapid Desert Raid. Alternatively, place in the top three of a pursuit race for three consecutive days to secure the Ocelot Swinger as your LS Kami prize.
↖ Premium Race and Time Trials
For racers out there, this week's premium race is Art to Art. Test your skills against other players and earn some hefty rewards. The time trial race is End to End, while the RC time trial takes place at Vespucci Beach. If you're up for a challenge, try your luck and set the best time to claim your rewards.
↖ Maximizing Your Earnings
To make the most of the bonuses this week, consider participating in free mode events for additional income. Keep an eye out for our videos tomorrow, where we'll share some strategies to maximize your earnings.
Remember, don't forget to raid those stash houses on three different days to claim your extra $100,000. And if you're looking for some intense action, power play game modes await you with double rewards. Good luck, and may your criminal endeavors be prosperous in Los Santos!
Most Popular Posts
Popular Category Lists