PoE Crafting Guide: Making Currency with Craft Cluster Jewel
If you're interested in profit crafting and don't have a lot of Poe currency to begin with, or you enjoy being a hideout warrior, then learning how to craft Cluster Jewels is an excellent option. Cluster Jewel crafting allows you to create powerful jewels with specific modifiers, and it can be a lucrative endeavour. Unlike other crafting methods that may have limitations or require extensive currency investments, Cluster Jewel crafting can be sustained for long periods, making it an attractive option for consistent profits.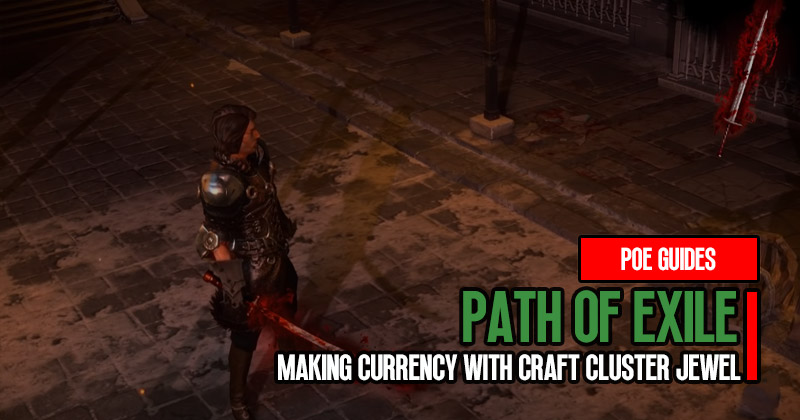 ↖ Getting Started with Cluster Jewel Crafting
Understanding Cluster Jewels: Cluster Jewels are special jewels that can be socketed into your passive skill tree, offering additional skill nodes and powerful modifiers. There are different types of Cluster Jewels, and the crafting process can vary depending on the desired outcome.
Choosing the Right Cluster Tool: To find good Cluster Jewels to craft, use the Affinities feature on the Craft of Exile website. Look for popular Cluster Tools that are in demand, such as those with powerful notables like Unholy Grace, Touch of Cruelty, Wicked Pall, or Dark Ideation.
Using Alterations for Crafting: One of the most common crafting methods for Cluster Jewels involves spamming Alterations. Alterations are relatively cheap, making this method accessible for players with limited currency.
↖ Calculating Profitability
Identify Valuable Notables: Research the prices of popular notables like Unholy Grace, Touch of Cruelty, Wicked Pall, or Dark Ideation on the trade website. Note down the numbers for each notable.
Understanding Crafting Odds: Calculate the chances of rolling the desired modifiers with Alterations. For example, determine the odds of rolling a specific notable like "Unholy Grace" or "Touch of Cruelty" with Alterations and your method.
Considering Regal Orbs and Exalted Orbs: Calculate the chances of upgrading the crafted Cluster Jewel to a two or three-notable version using Regal Orbs and Exalted Orbs. Understand the weights of different notables when using Exalted Orbs to maximize your chances of obtaining valuable combinations.
↖ Finding Cluster Jewels to Craft
Using Regular Expressions (Regex): When searching for Cluster Jewels with specific modifiers, you can utilize Regex to make your search more efficient. For example, searching "GLA" will highlight only "Unwaveringly Evil."
Crafting Process: Buy a number of Cluster Jewels you plan to craft. Spam Alterations on them to roll the desired notables. If a Jewel has two good notables, you can use Regal Orbs to potentially add a third. Continue crafting until you have a set of valuable Cluster Jewels.
Organizing Your Crafts: Sort your Cluster Jewels into separate stash tabs, considering the ones with two good notables and the ones with random notables. Price check and sell the valuable ones while gradually lowering the price of the ones with random notables until they sell.
Conclusion:
Profitable Cluster Jewel crafting can be a sustainable and lucrative method in Path of Exile. By understanding the crafting odds and using Regular Expressions to efficiently search for desired modifiers, you can create and sell valuable Cluster Jewels, earning a steady income in the game. Experiment with different Cluster Tools and crafting methods to find the most profitable ones, and enjoy being a successful hideout warrior in Path of Exile. Happy crafting!
Most Popular Posts
Popular Category Lists