Path of Exile 2 New Skills Gems and Customization Options
Path of Exile is renowned for its extensive character customization, and with the upcoming release of Path of Exile 2, players can expect the most significant drop in new skills in the game's history. This guide will delve into the exciting new skill gems and customization options introduced in the game, exploring the long-awaited shapeshifter archetype, the new weapon classes, the addition of meta gems, and more.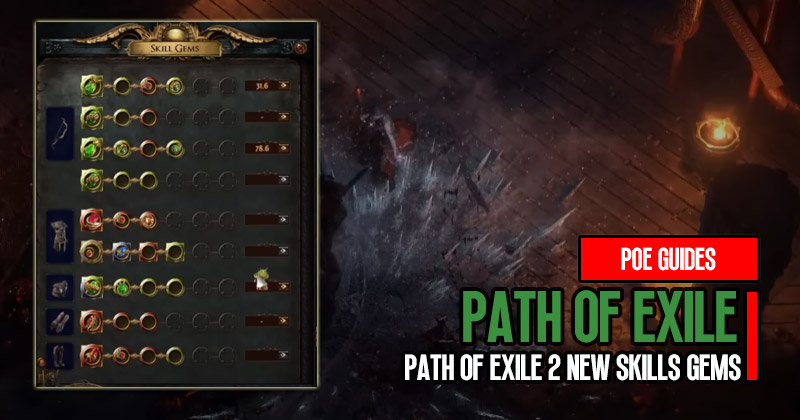 ↖ Shapeshifter Archetype
Path of Exile 2 introduces the highly anticipated shapeshifter archetype, allowing players to transform into various forms. Three confirmed forms include the werewolf, werebear, and werecat. These forms are accessible via skill gems and offer unique playstyles and abilities. The werewolf emphasizes speed and agility, allowing for quick attacks and movement. The werebear focuses on tankiness, providing increased defences. The werecat can only be accessed through the Beastmaster ascendancy class, specialising in critical strikes. Expect a plethora of new build possibilities with these forms.
↖ New Weapon Types
Path of Exile 2 introduces two new weapon Types: crossbows and spears.
Each weapon class brings a variety of new skills to the game, both through weapon implicits and skill gems.
Crossbows: Crossbows grant access to powerful skills like PowerShot, which is a high-damage single-target attack. Bolt skill gems, such as Permafrost, Armor-Piercing, and Incendiary Bolt, modify the Crossbow's implicit skill. The Siege crossbow introduces the Siege Cascade skill, reminiscent of the Reign of Arrows skill. Players can modify the behavior of Siege Cascade by using different bolt skills.
Spears: Spears offer a host of new skills found on both skill gems and as implicit modifiers on the weapons themselves. Each spear grants at least one mobility skill, allowing for engaging and disengaging tactics. Other spear skills include Whirling Slash, Rapid Assault, Spear Deerfield, Storm Spear, and Blazing Lance, each providing unique gameplay mechanics and damage types.
↖ Meta Gems
Path of Exile 2 introduces a new gem type called meta gems. These gems serve niche purposes and function differently from traditional skill gems. Examples of meta gems include Proficiency, which allows players to activate all auras within the gem with a single click, and Spell Totem Support, which now enables socketing multiple spell gems into the gem itself, determining the order in which they are cast. Meta gems provide new ways to customize and enhance your character's abilities.
↖ Visual and Animation Updates
With the release of Path of Exile 2, players can expect new skills and visual and animation updates. Existing skills may receive revamps, and new skills may be introduced. The developers have been steadily improving visual effects, and the release of Path of Exile 2 will showcase advanced exile models and rigging technology, resulting in a visually stunning experience.
↖ Conclusion
Path of Exile 2 promises exciting new skills and customization options for players to explore. The shapeshifter archetype, new weapon Type, meta gems, and visual updates contribute to the game's depth and variety. Get ready to unleash your creativity and delve into a world of endless character customization possibilities.
Most Popular Posts
Popular Category Lists