Top 8 PoE 3.22 Strongest and Easiest-to-assemble League Starter Builds
Welcome to this comprehensive guide for choosing your league starter build for the upcoming 3.22 season of Path of Exile. In this article, we'll be discussing the top 8 strongest and easiest-to-assemble builds that will not only help you progress through the game but also excel in both trading and softcore gameplay. Let's dive into the Poe 3.22 builds!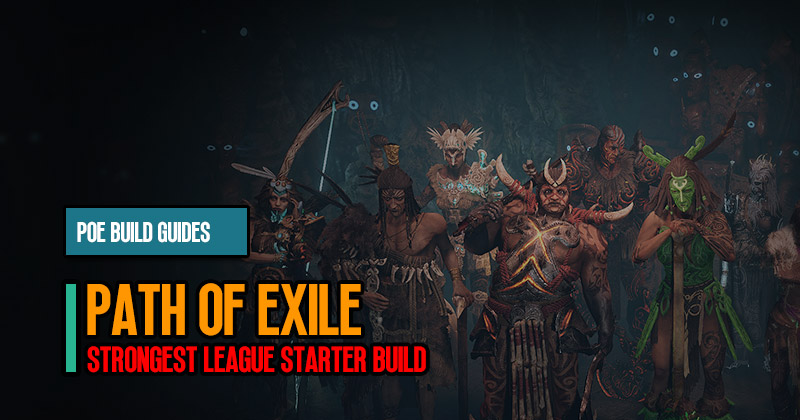 ↖ Righteous Fire Juggernaut
Let's kick off the list with the classic Righteous Fire Juggernaut. The build performs exceptionally well in mapping and offers solid tankiness for both bosses and mobs. While its bossing damage might not be the highest, it's a great option for new players due to its mechanics and survivability.
Pros:
Extensive information available.
Suitable for softcore, SSF, and even hardcore.
Great for learning mechanics.
Solid mapping and bossing.
Cons:
Lower bossing damage due to tanky setup.
Can face-tank many mechanics.
PoB Link: https://pobb.in/wFebFZZt0K0x
↖ Detonate Dead Elementalist
Next up, we have the Detonate Dead Elementalist. This build thrives on scaling corpse HP for explosive damage potential. With easy gearing and potent ignite proliferation, it excels at both mapping and bossing. This build is a fantastic choice for those aiming to conquer Uber bosses in SSF Hardcore.
Pros:
Excellent scaling with corpse HP.
Great for SSF and hardcore.
High damage output.
Solid mapping and bossing.
Easy gearing.
Cons:
Relies on specific mechanics for damage.
PoB Link: https://pobb.in/mQ1hw83NZHUP
↖ Impending Doom Support Pathfinder
The Impending Doom Pathfinder offers a comfortable and effective poison-based mapping build. The return of the Balance of Terror unique Jewel further enhances its damage potential, compensating for recent nerfs. While it requires a bit of understanding to start, its mechanics are thoroughly explained in the guide. This build is an excellent option for players seeking both SSF and trade league success.
Pros:
Comfortable mapping and poison playstyle.
Good balance of damage and tankiness.
Improved with the return of unique Jewel.
Strong scaling with Pathfinder flasks.
Effective for both SSF and trade leagues.
Cons:
Requires The Vixen's Entrapment gloves.
PoB Link: https://pobb.in/sNY3j1ptfkAd
↖ Lightning Arrow Deadeye
For those who crave speed and efficiency, the Lightning Arrow Deadeye is an exceptional choice. With swift clearing capabilities and the ability to farm Poe Currency mapping mechanics efficiently, this build is a top-notch league starter. Keep in mind its squishiness due to its ranged nature.
Pros:
Lightning-fast mapping.
Efficient campaign clearing.
Suitable for staying ahead in the game.
Evade attacks and suppress spells.
Great for farming mapping mechanics.
Cons:
Vulnerable to one-shots due to squishiness.
PoB Link: https://pobb.in/3Uuhf5QcCpY_
↖ BoneShatter Juggernaut
The BoneShatter Juggernaut stands as an efficient and versatile league starter. Its stunning mechanics and AoE capabilities make for a speedy map clearer. While its bossing damage might not be the highest, it's a reliable choice for both trade and SSF Hardcore players.
Pros:
Efficient clearing of bosses and Atlas.
Great melee build for SF, trade, and SSF.
Strong AoE and stunning mechanic.
Effective mapping.
Cons:
PoB Link: https://pobb.in/Z96EbPRLnDG4
↖ Explosive Arrow Elementalist/Champion
The Explosive Arrow build, whether as an Elementalist or Champion, delivers satisfying clear speed through ignite proliferation. While the Elementalist version offers higher damage potential, the Champion variant provides added survivability. Keep in mind that it's more adept at mapping than bossing.
Pros:
High damage output and great clearing.
Flexible ascendancy choices.
Effective scaling with gem levels.
Suitable for both SSF and trade.
Guides available from various sources.
Cons:
Vulnerable to bosses and one-shots.
PoB Link: https://pobb.in/ObAn0QjSSSKX
↖ Corrupting Fever Champion
Concluding our list is the Corrupting Fever Champion, boasting unparalleled map clearing capabilities. Utilizing Kinetic Blast and bleed explosions, this build melts enemies across the screen. However, its single-target damage for bosses might be lacking. Perfect for those who enjoy the satisfying gameplay of clear-focused builds.
Pros:
Explosive Kinetic Blast clearing.
Bleed explosions for satisfying gameplay.
Effective scaling into endgame content.
Fast and fun mapping.
Strong single-target damage with proper setup.
Cons:
Limited bossing capabilities.
PoB Link: https://pobb.in/RaHHt9Qj7Ay4
In conclusion, these top 8 league starter builds offer a variety of playstyles and strengths. Depending on your preferred approach, you can choose from tanky options, high clear-speed builds, and efficient mapping or bossing setups. Make sure to explore the detailed guides provided by content creators to learn about the mechanics, gearing, and playstyle of each build. Good luck with your league start in Path of Exile 3.22!
Most Popular Posts
Popular Category Lists