How to Search for Timeless Jewels in Path of Exile Trade Leagues?
In Path of Exile, the introduction of trade leagues provides players with exciting opportunities to enhance their characters. One such avenue for improvement is the use of Timeless Jewels, which can significantly impact your character's power. These jewels have a wide range of outcomes, from increasing curse or aura effects to granting unique bonuses like converting physical damage taken to fire damage. While finding the perfect Timeless Jewel can be challenging, trading leagues open up advanced options for acquiring them. In this guide, we'll discuss how to search for Timeless Jewels effectively in Path of Exile's trade leagues.
↖ Using External Tools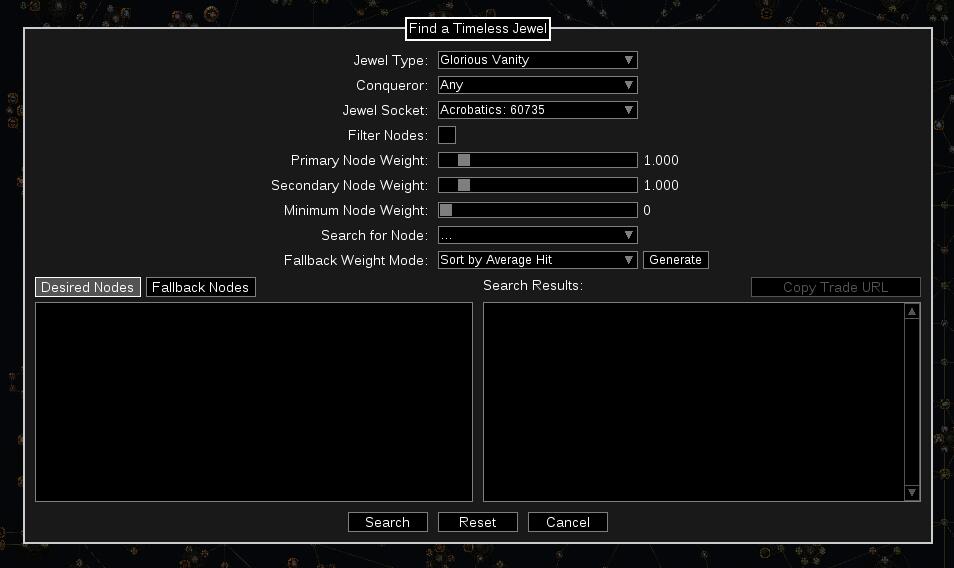 Path of Building (PoB) is a popular tool for theorycrafting and planning your character. It includes a "Find a Timeless Jewel" feature that can be useful. However, some players may find it less intuitive or flexible. Alternatively, there's a cool website you can use, although it's essential to note that it may occasionally be out of date. To ensure accuracy, double-check the jewel's attributes in-game or by pasting it into PoB.
↖ Timeless Jewels
Timeless Jewels offer a unique way to customize and optimize your character's passive tree in Path of Exile.
Timeless Jewel: https://vilsol.github.io/timeless-jewels/tree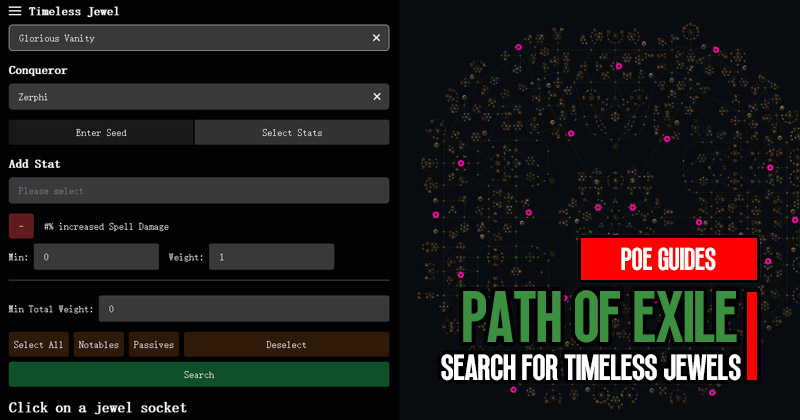 ↖ Step 1: Select Your Desired Jewel Socket
Begin by selecting the jewel socket where you plan to place the Timeless Jewel. This allows you to narrow down your search to jewels compatible with that socket.
↖ Step 2: Exclude Unwanted Nodes
The website provides an efficient way to exclude nodes you don't need in your build. For example, if you're running a Righteous Fire (RF) build, you can deselect nodes related to skills you won't use, simplifying the search process.
↖ Step 3: Specify Desired Stats
Identify the specific stats you want on your Timeless Jewel. For example, if you're seeking to increase your RF's damage, select "physical damage from fire" as your desired stat. You can set a minimum value for that stat, ensuring the jewel meets your build requirements.
↖ Step 4: Review Search Results
The website will then generate a list of Timeless Jewels that match your criteria. It's important to note that it searches for jewels with two or more of your desired stats. Review the results to find the jewel that best suits your needs.
↖ Step 5: Open Trade
The website conveniently allows you to initiate trades directly in the softcore trade league. If you find a suitable jewel, you can proceed with the trade by clicking on it.
↖ Double-Checking In-Game
After identifying a jewel on the website, it's essential to double-check its attributes in-game to ensure it matches what you're looking for. You can do this by searching for the jewel's seed, as demonstrated on the website. Confirm that the jewel provides the desired bonuses before finalizing the trade.
↖ Conclusion
Timeless Jewels offer a unique way to customize and optimize your character's passive tree in Path of Exile. With the advent of trade leagues, you have more options for acquiring these valuable jewels. While Path of Building's built-in feature can help, using an external website can provide a more intuitive and flexible approach to searching for the perfect Timeless Jewel. Remember to double-check the jewel's attributes in-game to ensure it aligns with your build goals. Happy hunting, and may you find the perfect Timeless Jewel to take your character to new heights in the trade leagues!
Most Popular Posts
Popular Category Lists