FFXIV Patch 6.5 Live Letter Summary: All You Need to Know
The Letter from the Producer Live Part 79, hosted during the Tokyo Game Show 2023, brought exciting news for Final Fantasy XIV players. Patch 6.5, named Growing Light, serves as the grand finale of the Endwalker expansion and is divided into two parts. In this article, we will provide a detailed summary of the key points revealed during this live letter.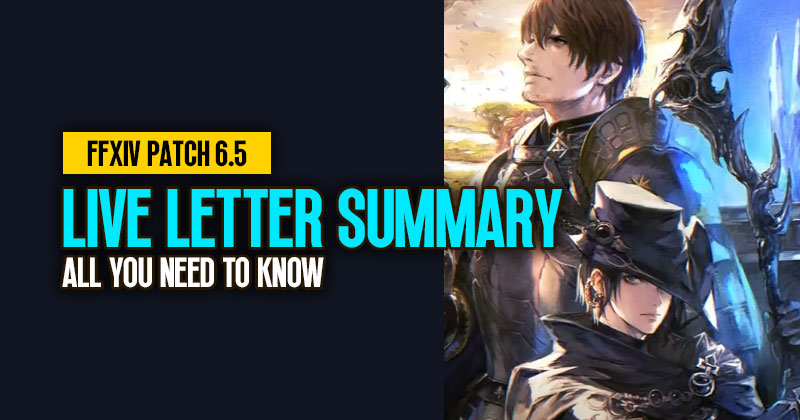 ↖ Part 1 Launch and Content
Release Dates: The first part of Patch 6.5 will launch on October 3rd, followed by the second part in January. These dates align with the EU Fan Fest in October and the Japanese Fan Fest in January.
Main Story: Both parts of the patch will introduce new main story quests, leading players into the upcoming expansion, Dawn Trail.
New Dungeon: The Lunar Subterrain is a new dungeon introduced in part one.
Trial and Extreme Version: The Abyssal Fracture trial and its extreme version are coming, with an epic battle and mesmerizing music. Players can farm all the extreme mounts from Endwalker and earn the original Bahamut Mount by collecting them all.
Alliance Raid: The third and final installment of the Endwalker Alliance Raids, A Thalia, promises breathtaking encounters and exciting rewards.
Unreal Trial: The Unreal Trial will shift from Zurvan to the legendary The Singularity Reactor, also known as Thordan Extreme.
↖ Other Exciting Additions
Sisters of the Seeds: The Sisters of the Seeds Grand Endeavor will feature more quests and fantastic rewards.
Tribe Quests: Patch 6.5 will introduce expansions to the Endwalker Tribe Quests, including the Omicron, Loporrits, and Arcasidara tribes.
Hildebrand: Fans of the Hildebrand storyline can rejoice, as it receives updates alongside relic weapons in Patch 6.55.
Crafter Splendorous Tools: Crafters will receive new tools in Patch 6.51 to enhance their crafting experience.
Criterion Dungeon Variant: A new variant of the Criterion Dungeon named Aloe Island offers players the opportunity to acquire upgrade materials for their Tomestone gear.
Duty Support: The Main Story Quest now allows players to solo all dungeons from A Realm Reborn to Endwalker, making the game more accessible to solo players.
Job Adjustments: Significant job adjustments are coming to balance both PvE and PvP aspects, aiming to create a more balanced damage output among different jobs within the same role.
PvP Rework: PvP enthusiasts will see substantial reworks and improvements to the PvP system. This includes UI adjustments and the introduction of the Red Sands Arena in Patch 6.51.
Felicia's Favors: A new system allows players to create customized lists of activities for a more tailored gaming experience.
Island Sanctuary Updates: The Island Sanctuary will receive extensive updates, including new ranks, visions, gathering areas, handyworks, and more creatures to discover.
Fall Guys Collaboration: Get ready for a massive collaboration with Fall Guys in the Gold Saucer, promising loads of fun and chaos.
Custom Deliveries: Crafters will have a new custom delivery client, Margaret, from Charlene.
Gathering Quality of Life: Gatherers will enjoy quality of life improvements with the ability to mass-etherealize stacks of items.
Glamour Update: Players can now store optional items in the armoire, clearing up inventory space.
Teleportation UI Update: Choose teleport locations based on expansion in the updated teleportation UI.
Alliance Raid Rework: Alliance Raids will be reworked to prevent low item level exploitation and reward harder raids more generously.
Housing Items: A variety of new housing items, including the Angel Flower Patch, cactus tree, clock, and more, will be added.
Casual Sets: More casual glamour sets are coming to the game, allowing players to customize their characters with a different style.
Minions and Mounts: New minions and mounts, including a fairy mount with a scholar theme, will be available.
↖ Server Infrastructure and Collaboration
Server Infrastructure: The development team is exploring server infrastructure upgrades, including the possibility of cloud data centers. A cloud data center for North America will be tested to evaluate its viability.
KFC Collaboration: A collaboration with KFC will offer in-game rewards through combo meals obtained in Japan, granting players the Eat Chicken emote.
Conclusion:
The live letter showcased a wealth of exciting content and improvements coming to Final Fantasy XIV in Patch 6.5. Whether you're a PvE enthusiast, a dedicated PvPer, or simply a lover of the game's aesthetics, there's something for everyone to look forward to in the upcoming patch. Stay tuned for more details as the release date approaches, and enjoy the epic conclusion of the Endwalker expansion. Good luck to all adventurers in Eorzea!
Most Popular Posts
Popular Category Lists