Path of Exile Crafting Unique 5-Charge Ring with Hinekora's Lock Guides
In today's guide, we'll delve into crafting the unique five-charge ring I obtained a few weeks ago. It's a One of a Kind ring and to replicate it would approximately cost around 1,163 mirrors. This is based on the unique three-charge implicit ring attribute and the five charges I was able to achieve.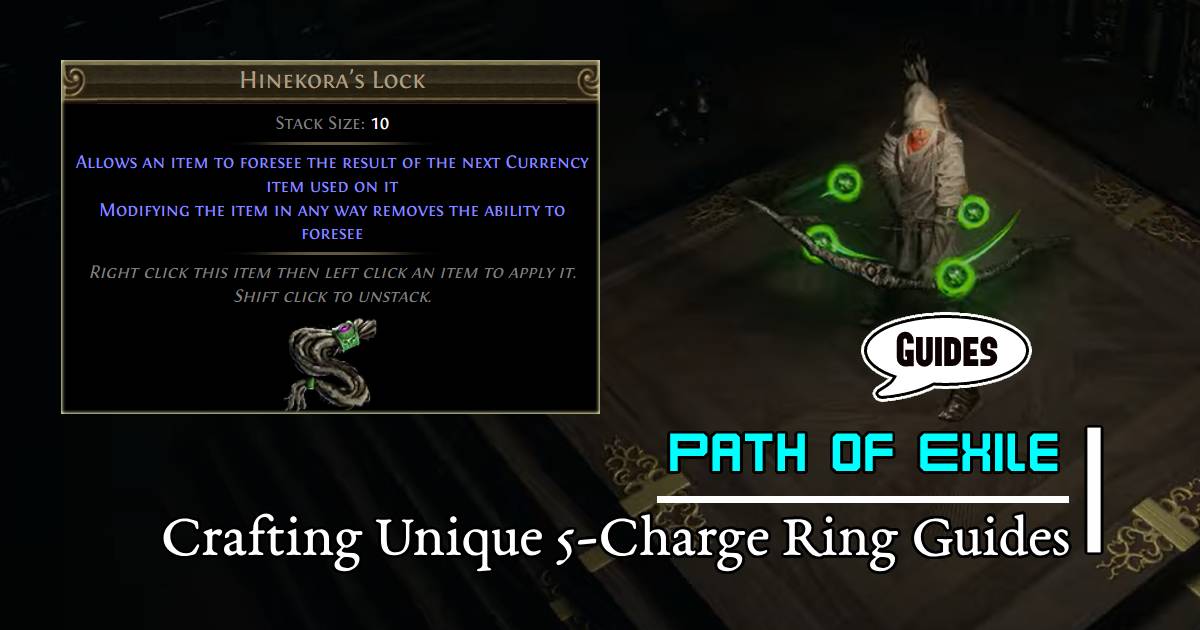 ↖ Current Attributes
T1 Crit Multi (From Essence)
Endurance Charge (Prefix)
Power Charge (Prefix)
Multi (Suffix)
↖ Crafting Objective
Our primary goal is to add a Tier 1 Life to this ring without risking the loss of any current attributes.
↖ Strategy Options
Using Multi-Mod: Prefixes cannot be changed, Augment Life. This approach has a 1 in 9 chance to obtain Tier 1 life. However, there's a risk of removing crit multi 1 out of 3 times. Using eternals for each attempt (currently costing four mirrors each), it would cost on average 36 mirrors.
Using Hinekora's Lock: Hinekora's Lock are being used to exalt the ring. The crafted mod applied is 3 crafted modifiers can't roll attack mods. This is to maximize the chances of getting a life mod by removing attack mods from the potential pool. With this strategy, it's expected to take 43 Hinekora's Lock on average to achieve our desired result.
↖ Crafting in Action
We'll be using 20 Hinekora's Lock and recording the outcomes for each. As a fun side experiment, every failed attempt will also be subjected to a Vaal orb to see if any exciting mods pop up.
↖ Outcome
Sadly, the initial attempt with the 20 locks didn't yield the desired Tier 1 Life. The probability was around 1 in 43, which means that we might have to continue the experiment with more Hinekora's Lock.
↖ Future Steps
Given the daily earning potential on standard, it is feasible to acquire more Hinekora's Lock and make another attempt in the near future.
↖ Conclusion
Crafting in Path of Exile can be a thrilling roller-coaster of highs and lows. Though we didn't hit our target in this attempt, the journey itself was filled with excitement and anticipation. It's the unpredictability and sheer depth of the crafting system that keeps players engaged and always seeking that next big crafting win. So, to all the Exiles out there, happy crafting, and may RNG be ever in your favor!
Most Popular Posts
Popular Category Lists