Path of Exile 3.22 Tornado Shot Raider Deadeye Magic Find Build Guides
Welcome Exiles to this unique Magic Find build guide featuring the Tornado Shot Raider Deadeye. Though it may be unconventional to some, this build is designed to optimize loot gains while delivering high damage with a solid defensive backbone. Let's dive right in!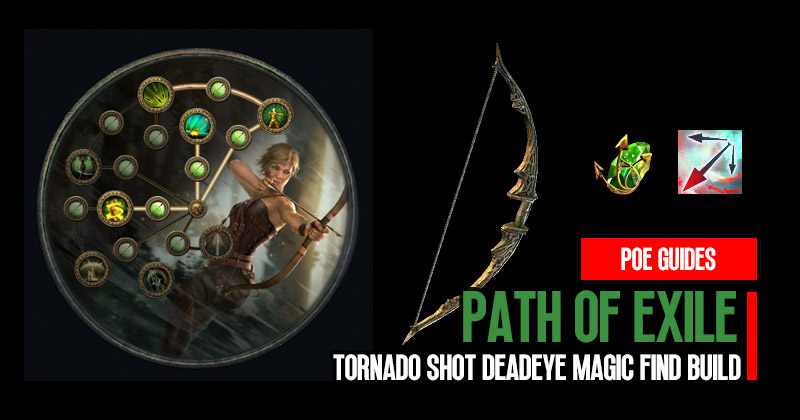 ↖ Playstyle
The Tornado Shot Raider focuses on long-range combat. Snaring Arrow is particularly essential for controlling the battlefield. Your primary goal is to kill enemies off-screen or maintain a safe distance.
↖ PoB Link
↖ Main Skill
Tornado Shot with Mirage Archer, Chain Support, Trinity, Divergent Inspiration, and Awakened Elemental.
↖ Secondary Skills
Purity of Elements with Enlightened Anger, Petrified Blood, Frenzy, Flame Dash, Steel Skin, and Berserk.
↖ Gear Highlights
Elemental Bow with additional arrows.
Ventor's Gamble rings, Graceful Salt Amulet.
Bisco's Leash belt, Goldworm Boots, Ky's Spirit gloves.
↖ Flasks
Divination Distillate, Dying Sun for extra projectiles, and various others for increased critical strike chance and movement speed.
↖ Build's Strength
Magic Find Power: With gear like Ventor's Gamble and Bisco's Leash, this build optimizes item quantity and rarity boosts.
Defensive Capabilities: 100% spell suppression and significant life regeneration and leech. Not to mention Raider's natural evasion boosts.
Offensive Prowess: With the right setup, you can delete enemies swiftly, making for a smooth mapping experience.
Customization: Depending on your gear, especially the number of arrows from your bow, you can switch between Chain Support and Greater Multiple Projectiles, tailoring the build to your preferences.
↖ Skill Tree & Key Nodes
Ascendancy: Raider with Avatar of the Chase, Rapid Assault, Way of the Poacher, and Avatar of Slaughter.
Jewels: Thread of Hope (for specific nodes like multi-shot), Inspired Learning (mini Head Hunter effect), and various Cluster Jewels for added damage and speed.
Notable Passives: Leech Mastery, Life Mastery, and various projectile and evasion nodes.
↖ Tips and Tricks
Accuracy is vital: Ensure you invest in accuracy nodes or gear as this build can sometimes struggle with hit rates.
Manage your defenses: Use Steel Skin and your elemental immunities smartly to counteract damaging debuffs like Corrupted Blood.
Positioning is key: Always maintain a good distance, aiming to kill off-screen.
↖ Conclusion
The Tornado Shot Raider Deadeye Magic Find build for Path of Exile 3.22 offers a thrilling gameplay experience, merging the joys of loot hunting with powerful offensive and defensive capabilities. While it might require a moderate investment, it promises a rewarding and dynamic playstyle. Whether you're new to Magic Find builds or an old hand, this guide should provide you with all the information you need to conquer Wraeclast in style. Dive in, and may your loot be ever plentiful!
Most Popular Posts
Popular Category Lists