How to Manage Hoarding Items in Last Epoch: Stash or Shatter?
Welcome to this Last Epoch guide! In this guide, we will be discussing the age-old question of whether to stash or shatter your items. Many players need help with hoarding too much junk and finding it difficult to decide which items are worth keeping. Fear not! We're here to provide some tips and strategies to help you navigate the world of Last Epoch more effectively.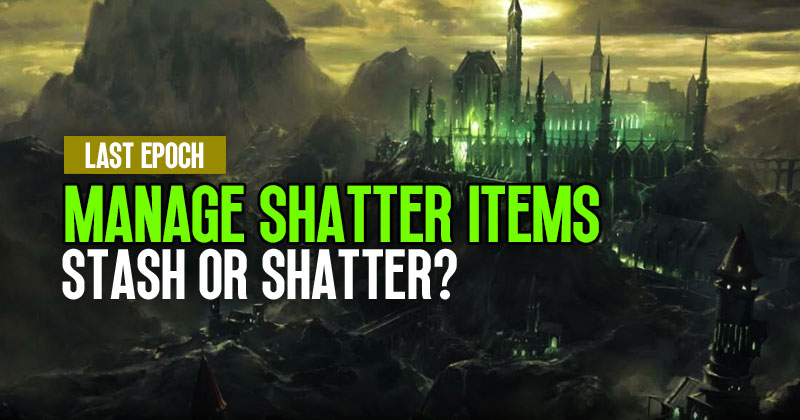 ↖ Tip 1: Stock Up on Shadow Runes
Shadow runes are crucial when collecting gear in Last Epoch. You'll often find yourself needing more of them. To avoid this, make it a habit to purchase shatters from NPCs whenever you get the chance. These shatters will periodically refresh, allowing you to accumulate a large number of them over time. Remember to buy shatters every time you visit an NPC to sell gear.
↖ Tip 2: Organize Your Stash
Before we delve into the hoarding dilemma, it's important to have an organized stash. Sorting your items into categories such as armour, weapons, accessories, and so on will make it easier to manage your collection. When it comes to hoarding, here's a general approach: keep one of everything unless the item has great legendary potential or an exceptional roll. In that case, you can keep a second copy. Continuously swap out your uniques based on their legendary potential or roll quality. However, feel free to keep a few items purely for fun or as community collectables.
↖ Tip 3: Stash or Shatter Exalted Items
Now, let's discuss whether to stash or shatter exalted items. Here's a step-by-step process to help you decide:
Step 1: Consider Your Current Build
Evaluate if the item can be used for your current build. If it offers valuable bonuses or synergies, it's worth stashing.
Step 2: Explore Alternative Builds
Think about whether the item can be useful for an alternate or future build you want to try. If it has potential in a different setup, keep it.
Step 3: Legendary Potential
Check if the item can be used in a unique recipe to create a legendary item. If it possesses the necessary affixes or rolls, it's worth stashing for that purpose.
Step 4: Discard Unwanted Items
If the item doesn't fit any of the above criteria and doesn't offer any valuable stats or bonuses, it's best to shatter it for crafting materials.
By following these steps, you can make informed decisions about what to keep and what to shatter.
↖ Tip 4: Mastering Idols
Idols can be challenging to understand, but they can greatly enhance your character's power. Here's a simplified approach to idol hoarding:
First, prioritize idols with double life or health bonuses. These are highly valuable for survivability and should be kept if they roll with high percentages.
Next, identify specific affixes that synergize well with your build. Use the loot filter settings to highlight idols with desired affixes, such as increased critical strike chance or damage bonuses. Pick up idols that meet your criteria and discard the rest.
Lastly, keep an eye out for build-defining idols that offer significant bonuses to specific skills or abilities. These can greatly enhance your character's performance and should be hoarded.
Remember, these suggestions are based on personal preferences and playstyles. Feel free to adapt them to suit your own needs and play experience.
Conclusion:
In conclusion, effectively managing your inventory in Last Epoch requires strategic decision-making. Remember to stock up on shadow runes regularly and organize your stash to maintain a clutter-free inventory. When deciding whether to stash or shatter an item, consider its potential use in your current build, alternative builds or as a component for legendary creation. Keep in mind the affixes that synergize well with your playstyle and specific build. By following these guidelines, you'll optimize your hoarding strategy and keep your inventory in check.
Most Popular Posts
Popular Category Lists