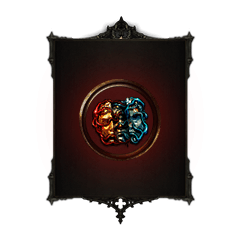 Eldritch Chaos Orb
Poe Eldritch Chaos Orb - Lower Price Eldritch Chaos Orb for Sale
Please Select Server/Platform
Crucible SC
Standard
Crucible HC
Hardcore
Crucible SC
Standard
Crucible SC
Standard
Crucible SC

5 ~ 30 Mins

10
Description
In Path of Exile, Eldritch Chaos Orbs are a type of currency that are used to reroll the modifiers on rare items, much like Chaos Orbs, but with a twist. They only reroll the Eldritch modifiers on rare items, and they add a new Eldritch modifier to the item. The Eldritch Chaos Orb's mod can be any of the four types of Eldritch modifiers, but it will always be a random one.
To use an Eldritch Chaos Orb, you need to have a rare item with at least one Eldritch modifier. You can buy them from Zana or find them in endgame content. When you use an Eldritch Chaos Orb, it will reroll the existing Eldritch modifiers on the item, and then add a new random one. This can make the item significantly more powerful, or it can make it worse, so it's important to be careful when using them.
Eldritch Chaos Orb Vendor Recipes
To obtain a 5x Eldritch Chaos Orb in Path of Exile using the Divination Card Darker Half, you will need to trade in three copies of the card to Tasuni in Highgate.
To do so, simply talk to Tasuni while holding the three copies of Darker Half in your inventory, and select the Vendor Recipes option. Then, click on the Divination Card tab and place the three cards into the slots provided.
Once you have placed the cards, click the Trade button to receive your reward of 5x Eldritch Chaos Orb.
LOLTANK is the go-to online marketplace for players looking to buy or sell Eldritch Chaos Orbs for all platforms, including PC, Xbox One, and PS4. This platform provides a safe and reliable environment for transactions and currency exchange, making it easy for players to enhance their gear or make a profit. Whether you're a casual player or a serious gamer, LOLTANK Market offers a convenient way to acquire these powerful crafting currencies. With its comprehensive support for all platforms, finding and buying the Eldritch Chaos Orbs you need has never been easier. Don't miss out on the chance to take your gameplay to the next level with LOLTANK Market.