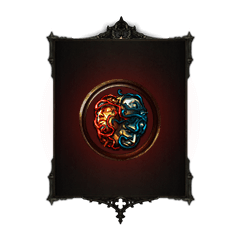 Eldritch Exalted Orb
PoE Eldritch Exalted Orb - Instant Path of Exile Eldritch Exalted Orb For Sale
Please Select Server/Platform
Crucible SC
Standard
Crucible HC
Hardcore
Crucible SC
Standard
Crucible SC
Standard
Crucible SC

5 ~ 30 Mins

20
Description
Eldritch Exalted Orbs are a powerful crafting currency in Path of Exile, allowing players to deterministically target specific modifiers on non-influenced armor. To make the most of them, it's important to understand the Dominant implicit, use mod-blocking, and choose the right item to craft. With a little practice and patience, you can use these eldritch orbs to create some truly amazing items.

Identify the Best Item
It's important to choose the right item for the Eldritch Exalted Orb. Since it's an expensive currency, you want to make sure you're using it on an item that's worth the investment. High-end rare items like Vaal Regalias or Hubris Circlets are good choices.

Use Mod-Blocking
Mod-blocking is a technique where you add a less desirable mod to an item to prevent it from being added with the Eldritch Exalted Orb. For example, if you're crafting a high-Energy Shield chest like a Vaal Regalia, you can use a Benchcraft to add +(25-35) to Maximum Life, preventing it from being added with the Eldritch Exalted Orb.

Determine the Dominant Implicit
Before using the Eldritch Exalted Orb, make sure you know the Dominant implicit of the item. This will determine whether a Prefix or Suffix will be added.

Choose the Mod to Slam
Once you've identified the Dominant implicit, choose the mod you want to add to the item. Look for high-tier mods like #% increased Energy Shield or +# to Maximum Energy Shield. These mods can greatly enhance the item's effectiveness.

Be Prepared to Spend
Using an Eldritch Exalted Orb is an expensive endeavor. Make sure you have the resources to spare before using one. If you're short on currency, consider using Exalted Orbs instead if the non-Dominant mod group is already filled.
LOLTANK Market is a reliable and secure online marketplace where players can buy and sell Eldritch Exalted Orbs for all platforms including PC, Xbox One, and PS4. As an online platform, it offers a safe environment for players to make transactions and exchange currencies. Whether you're looking to enhance your gear or make a profit, LOLTANK Market provides a convenient way to acquire these powerful crafting currencies. With its support for all platforms, you can easily find and buy the Eldritch Exalted Orbs you need to take your gameplay to the next level.