POE 3.20 Spell Echo Hydrosphere Unique and Highly Creative Inquisitor Build
This Path of Exile Builds is all about combining some of the most powerful damage scaling items with the Hydrosphere skill gem to create an incredibly powerful build. Utilizing Marylene's Fallacy and The Winds of Fate staff for around 550% crit multi and Inquisitor for Battlemage for double base damage, this build is capable of huge amounts of damage. To make sure the pulses of Hydrosphere always crit, Wave of Conviction tech is used to only allow the repeat hit to affect the sphere. To further increase the damage output, Avatar of Fire and Expedition's End are used to convert all of the damage from physical to cold to fire. Finally, an instant cyclone is used to maintain Fanaticism for improved coverage, mana sustain, and speed. Hybrid Inquisitor tools are then used for regen-centric defense, rounding off this powerful build.
POB Link: https://pastebin.com/q0rB6TqL
Buld Link in Path of Exile: Click Here
Spell Echo Hydrosphere is a unique and highly Path of Exile creative build that makes use of a rarely used support skill and an unusual helmet to create a powerful build. The helmet in question is the Plume of Pursuit, which reduces all non-critical strikes to 80% of their original damage. However, it also makes every final repeat of a spell, when using the Spell Echo support gem, an automatic critical strike. To make the most of this build, Ifnjeff chose the Hydrosphere skill, which deals damage over a duration and can benefit from the automatic crits.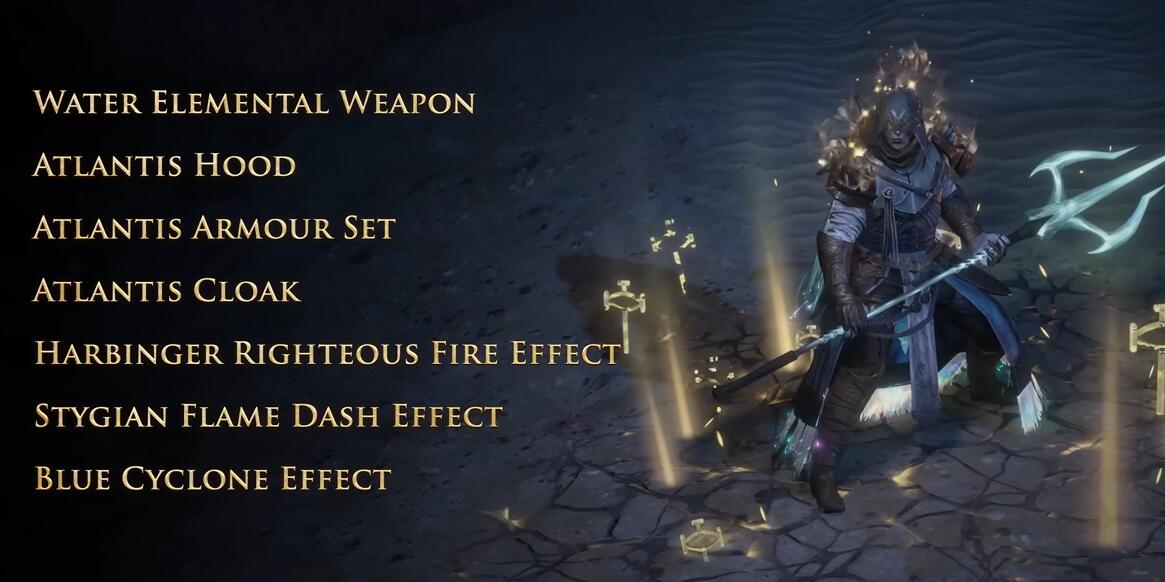 The main mechanic we use to accomplish this is Fanaticism, which grants 75% more cast speed, 75% increased area of effect, and 75% reduced mana cost. To up-keep Fanaticism, we use the channeling attack skill Cyclone to quickly spend the upfront mana cost and begin the animation. This allows us to weave in some quick attacks between our casts to move the sphere or apply freeze, greatly increasing our screen coverage and responsiveness. We also leave enough mana unreserved to be able to cast one full-cost Hydrosphere for the small gaps in Fanaticism when we miss a Cyclone. All of these elements come together to create a build that is both powerful and enjoyable to play.




To make the Hydrosphere pulses even more potent, added a few additional mechanics. The first is Wave of Conviction, which applies an ailment to the Hydrosphere ball and creates a damaging wave that can only ever have one instance. then added Marylene's Fallacy and The Winds of Fate to increase the critical strike multiplier, as well as Battlemage from the Inquisitor Ascendancy to add the weapon damage to the Hydrosphere pulses.

To ensure that the Hydrosphere pulses only deal cold damage, took Avatar of Fire, which converts 50% of cold damage to fire, and used the Cold to Fire support gem. To further ensure that the pulses freeze enemies, Expedition's End was added, which makes freezing more effective and chills nearby enemies.

Finally, to increase the build's cast speed, AoE, and mana cost reduction, Ifnjeff added Instruments of Zeal, which grants a massive boost to all three of these stats. To maintain the buff, used Cyclone, bound to the space bar, and tapped slightly more than once a second.
Most Popular Posts
Popular Category Lists