Fallout 76 tips and tricks for beginners
Fallout 76 is the latest installment in the long-running Fallout video game series. It's an online multiplayer game, and it's set in the post-apocalyptic wasteland of West Virginia. With its vast landscape, intense combat, and role-playing opportunities, Fallout 76 can be a daunting experience for new players. But with the right tips and tricks, you can make the most of your time in the wasteland. Here are some of the best tips and tricks for getting started in Fallout 76.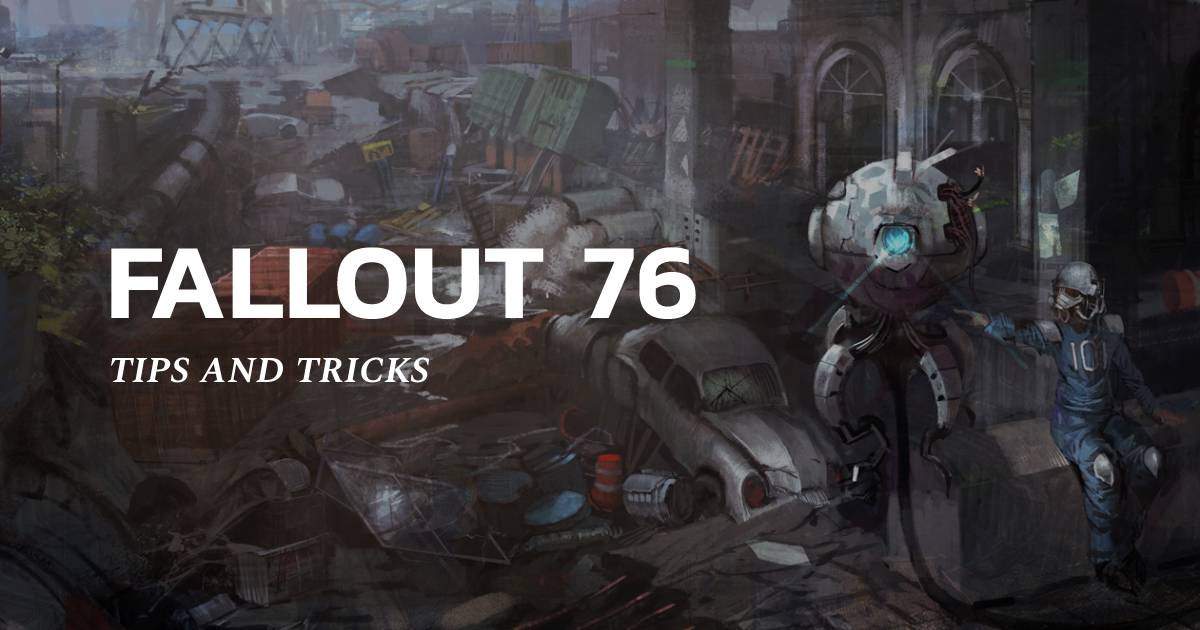 AFK
You can stop the game from automatically logging you out by going into photo mode. To do this, press "Escape" on your computer and then "T" to enter photo mode. This will stop the game from logging you out. You can also use an auto clicker or make your character spin around if you want, but this is probably the better way.

Sleep
Whenever you log in to Fallout 76, make sure to sleep on your bed. This will give you two hours of bonus XP which is a 5% bonus. When combined with other bonuses, this can be incredible.

Don't Sleep on the Ground
Sleeping on the ground can cause you to get diseases, and if you don't have a disease cure, it can affect your gameplay for up to 15 minutes.

Play Instruments
Playing any musical instrument will give you AP regen for one hour. This is really useful at lower levels, so if you find an instrument right away, make sure to play it and then sleep.

Power Generators
You can power up your house by using power generators. Place a power conduit anywhere in your house and it will give you power. This is great for turning on lights and other appliances.

Join a Public Team
Joining a public team will give you bonuses from other players in the team. They might share perks like Traveling Pharmacy or Banner Boiler, which can make your gameplay easier. Make sure to have a charisma of 4 and Inspiration on so that you can get more perk points quickly.

Dying Isn't So Bad
When you die, you only lose your junk items. You don't lose Fallout 76 Bottle Caps, experience, or ammunition, so don't be afraid to fight things if you're having trouble.

Eat and Drink
Eating and drinking will give you great buffs. Being fully fed will give you +1 strength, +45 max HP, and +45 disease resistance. Being well hydrated will give you +1 endurance, +45 AP regen, and +45 disease resistance.

Best Food
Cranberries are the best food in the game for XP gains. You can find them at Aaron Holt Homestead, and if you equip the Green Thumb perk, you can get twice as many. Cranberry juice gives +5 XP points for 30 minutes and cranberry relish gives +10 XP points.

Colossal Problem
This is the best event for finding treasury notes, which can be exchanged for gold bullion. You can get up to 8 treasury notes per event, and there is no limit to how much you can carry.

Bonus Tip
Collect wood by clicking on fallen logs. You can get 2-8 wood scraps per click, which can be really useful for beginners.


Conclusion
Fallout 76 is an exciting and immersive game, and with the right tips and tricks, you can make the most of your time in the wasteland. Whether you're a seasoned veteran or a new player, these tips can help you become the best survivor in West Virginia. With its intense combat, role-playing opportunities, and massive world, Fallout 76 can provide hours of fun and exploration. So get ready to explore the wasteland and make your mark in the world of Fallout 76.
Most Popular Posts
Popular Category Lists