FFXIV: Live Letter 70 Date and What to Expect
Final Fantasy XIV fans, get ready for an exciting event! Live Letter Part 78 is set to take place on May 12th, 2023, at 4 am PDT. Hosted by Square Enix and staff, the live stream will feature new information about upcoming patches for Final Fantasy XIV.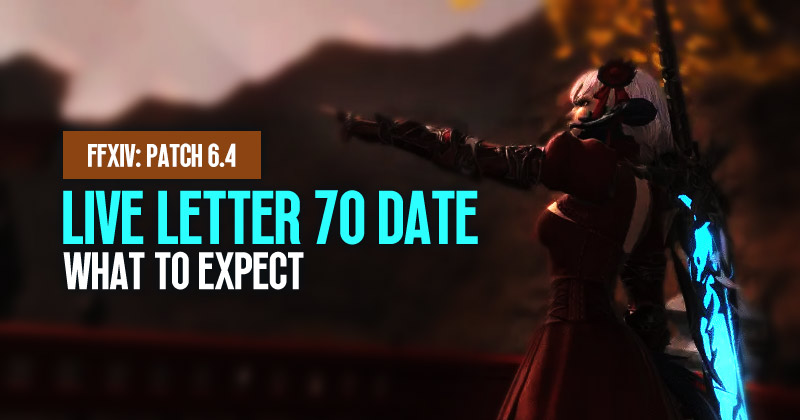 ↖ What is a Live Letter?
For those who are not familiar with Live Letters, they are live-stream events where Square Enix staff shares new information about upcoming patches for Final Fantasy XIV. Fans can expect to see in-game footage, previews of new content, sneak peeks of new mounts and minions collectibles, and much more.
↖ What to Expect from Live Letter Part 78?
This Live Letter will focus on Patch 6.4, the upcoming patch scheduled to be released in late May. Fans can expect to get a release date for the patch during the event. The Live Letter will feature a ton of new content, including previews of the new raid dungeon, new trial, and updates to the island sanctuary.
Players will also get to see the new scholar fairy glamours that were promised in a previous Live Letter. They can turn fairies into carbuncles, which fans have been requesting for a long time. Additionally, fans may get a glimpse of how wing-type fashion accessories can be used in combat in the open world.
The game will now have near-full duty support, bringing the game closer to a much more single-player-focused main scenario completion possibility. And finally, fans may even get a first look at the brand new dungeon, The Ether Font.
↖ How to Watch Live Letter Part 78?
The Live Letter will be available on YouTube, Live Nico Nico, the official Final Fantasy XIV Twitch channel, and more. For those who can't watch it live or may not be able to understand Japanese, there will be a summary video available on the same day. Fans can check out the video to get a quick breakdown of all the information.
↖ Final Thoughts
Live Letter Part 78 is shaping up to be an incredible event. With plenty of new content to look forward to in 6.4, it's going to be great to see Yoshi P in action. So, mark your calendars for May 12th at 4 am PDT or 12 BST, and remember to tune in to the Live Letter or summary video to catch all of the exciting news.
Most Popular Posts
Popular Category Lists