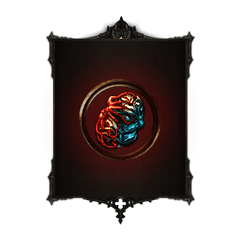 Eldritch Orb of Annulment
PoE Eldritch Orb of Annulment - Buy Cheap Eldritch Orb of Annulment
Please Select Server/Platform
Crucible SC
Standard
Crucible HC
Hardcore
Crucible SC
Standard
Crucible SC
Standard
Crucible SC

5 ~ 30 Mins

10
Description
An Eldritch Orb of Annulment is a powerful Currency in the world of Path of Exile. Unlike its counterpart, the Eldritch Exalted Orb, this orb has the ability to remove either a Suffix or Prefix from a rare item, depending on the Dominant Implicit modifier.
If the Dominant Implicit modifier is Exarch, then a Prefix will be removed. On the other hand, if the Dominant Implicit modifier is Eater, then a Suffix will be removed. It's important to note that only rare items can be targeted with this orb, and fractured modifiers cannot be removed.
This orb is often paired with an Eldritch Exalted Orb when targeting specific modifiers, as the combination of the two can result in a powerful item with precisely the desired set of affixes. As such, the Eldritch Orb of Annulment is a highly coveted item among Path of Exile players, and can greatly impact the strength and effectiveness of their builds.
LOLTANK Market is One of Best online marketplace for buying and selling Eldritch Orb of Annulment for all platforms, including PC, Xbox One, and PS4. The platform offers a safe and reliable environment for players to exchange currencies and enhance their gameplay experience. Whether you're looking to upgrade your gear or make a profit, LOLTANK Market provides a hassle-free and convenient way to acquire these powerful crafting currencies. With its broad support for all platforms, finding and purchasing the Eldritch Orb of Annulment you need has never been easier. Join LOLTANK Market today and take your gaming experience to the next level.